Welcome to the website of Association Répertoire International d'Iconographie Musicale (RIdIM).
Association RIdIM promotes, supports and conducts worldwide cataloguing and research projects, workshops and conferences dealing with visual culture related to music, dance, and the dramatic arts.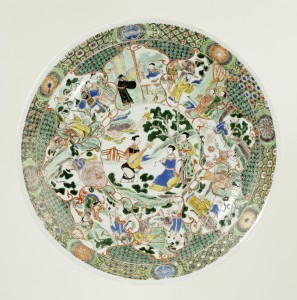 Anonymous, Saucer-dish with music making ladies and scenes from "The Journey to the West", c. 1680 – c. 1700, China;  h: 5.8, d: 35 cm; d: 20 cm; porcelain, glaze, cobalt, gold. Amsterdam: Rijksmuseum (inv.-no.: AK-RBK-15903).